Welcome!

Welcome! Thank you for visiting our website! We hope this site will help ensure your marketing goals through: (1) Consistency of your brand, (2) Single Sourcing, (3) Professional Project Management, and (4) Creative Ideas! Please feel free to look through any of our more than 250 digital catalogs by clicking on the link below:
WE ARE A CERTIFIED WOMAN-OWNED ENTERPRISE.
FEATURED ITEM!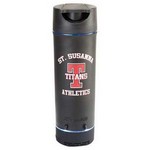 Zoom® Audio Flask
The Zoom® Audio Flask rocks out with an 18 oz. capacity to keep you hydrated. It boasts a removable, light-up, Bluetooth speaker that blasts your favorite soundtrack to keep you motivated and supports...
$35.98 - $45.33

Browse our selection of Holiday Cards/Greeting Cards/Calendar Cards. We will be happy to customize these products with your information!